I have been a Baha'i for over 35 years. I was 18 when I became a Baha'i. I have been married 30+ years and I live in the Pioneer Valley of Western Massachusetts.
How I started A Bahá'í Perspective can be presented by way of my dedication of this project to the following people:
To David Gowler who is a founding member of the low power FM station,
Valley Free Radio (VFR)
in Northampton Massachusetts. David put out a call to the Bahá'ís to take advantage of this resource to get the message out about the Bahá'í Faith.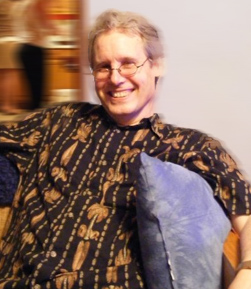 Warren Odess-Gillett
To my brother David Gillett and his wife, Manal. David and Manal produce a couple of radio programs in Cameroon. When David Gowler put out the word about VFR, I figured I could just recycle the programs David and Manal put together and play them on VFR. However, once I saw the scripts for the programs, I realized there was a cultural disconnect so I had to scrap that idea. I had already committed to providing a program on VFR and I had 10 months before I was going to go on the air. I started creating scripts and enlisting folks to record programming for A Bahá'í Perspective. It was a very time intensive effort to create the scripts, line up readers, and make the recordings. It was clear I was not going to be able to produce a weekly program in this manner.
To Ray Eliot, one of my most avid listeners (along with his wife, Mary). Ray is a great story teller, and it dawned on me to ask Ray to tell his life story and I would record it and then play it on the air. So, Ray was my first interview and one of my best. It became readily apparent that this format I could deal with. So A Bahá'í Perspective became an interview program.
To my son, David Gillett, who said, "Dad you gotta have a podcast". I had no idea how to establish a podcast, but I knew it was a good idea to get this out on the web.
To Bil Dvorak, a fellow podcaster (Ask A Bahá'í), who took the initiative to contact me and introduce me to Derrick Stone who set up his podcast.
To Derrick Stone, who has so graciously hosted all my archived interviews in the past and set up my podcast so that I could broaden my listening audience from Northampton Massachusetts, to the whole world wide web!
To Marc Atwood who has graciously offered his services to revamp my very retro website into something more professional looking and is now hosting and supporting the podcast.
To my dear wife, Jacki, who is also one of my most avid fans. She promotes my program wherever she goes. It was she that suggested I name the program A Bahá'í Perspective (I was going to name it The Bahá'í Perspective). Jacki has also been very generous with the time I devote to creating the weekly programming.
To our Unknowable Essence who has provided this gift of purpose in my life and I am so grateful for the opportunity to serve.